Alexandra Collison Amazing Face Painting
Brilliant, artistic, creative, face painter and glitter artist!
For availability, fees and suggestions for your event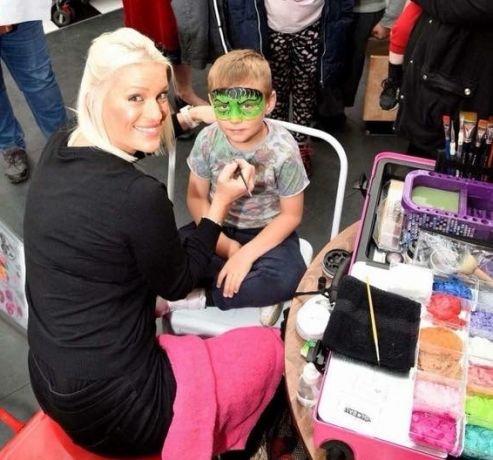 Always busy - book now for your special event
Description
Alexandra Collison is a brilliant, artistic, creative, face paint and glitter artist.
She is professional and experienced and paints with personality. Alex has enchanting designs that children and adults can choose from or she can create stunning faces from requests - whether it's a super hero, unicorn, butterfly or even, as recently, a ferret!
Alexandra is perfect for children's parties, weddings and christenings where a number of children require their faces to be decorated. For adults Alexandra paints and designs for hen parties, and all social occasions, painting faces, arms, bodies and baby bumps even glitter beards and glitter tattoos!
For festivals, school fetes, galas and outdoor events, Alex is completely self-contained with her own 3m x3m mini marquee, pop up banners and bunting. It makes a colourful and visually attractive display. For all events, she brings her own make-up table and chair - just provide a space.
Not just character faces! Alex creates beautiful natural, flower, abstract and other paint and glitter designs, her colours range from striking vivid and rainbow shades to beautiful pastel and subtle colours.
Spooky! For Halloween and other creepy celebrations Alexandra creates fun and scary designs for small and grown-up ghosts and goulies!
Her paints and equipment are professional quality. She has full Public Liability Insurance of £10,000,000.
Suitable for...
Children Parties
Weddings
Christenings
Fetes
Schools
Galas
outdoor events
Hen Parties
Baby Bumps
"Lovely and professional lady, her work is amazing!!! Children really loved her designs!!! I would recommend her to anybody who is planning any kind of event involving face painting"
Sarah