Professor Jon's Flea Circus
Flea Circus, enchanting and funny A full day of fun
For availability, fees and suggestions for your event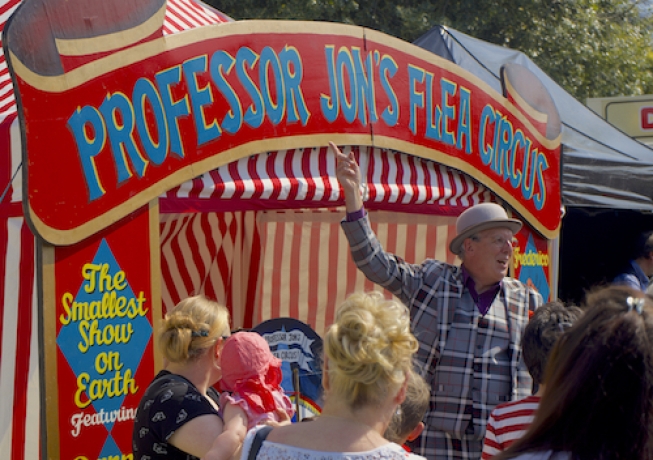 Brilliant for Circus, Old Time events, Victorian and Edwardian events, Seaside events
Description
Professor Jon's Flea Circus Show
Itching to perform for YOU!
Step right up for an enchanting, very funny, attraction re-creating all the fun of a Victorian Flea Circus with a touch of humbug, bunkum and comedy. It's an unusual attraction and Professor Jon's presentation is unique. Appearing in the show are, stars of the Flea world - Bella the Weightlifting Flea, Madame ZaZa on the tightrope, Danny the Dare-Devil High Diver, Frederico the Flea Cannonball and many more in the cast, all trained from scratch! 
No real fleas are harmed during this presentation! It's a visually captivating and charming presentation performed in true Barnum style.
The show is colourful with it's own sideshow tent and PA. Completely self contained. The Flea Circus can present upto 3 performances a day lasting about 20 mins each.
Tech details: 3m depth x 3.5m frontage, 3.5m height. 
"Thanks for being brilliant, It was a great day." AssembleFest, Hull
Suitable for...
Outdoor Events
Corporate Events
Street Theatre
Galas
Fetes
Carnivals Circus theme
"Thank you so much for your entertaining shows at the seaside event, I really enjoyed them and more importantly so did the visitors, we got a lot of really good feedback about them. It really added to the atmosphere and success of the event. Thanks and hope to work with you again. Crich Tramway Village A huge thank you to you for a great afternoon, the flea circus went down very well as the audience are the most receptive to the arts! Hope to work with you in the future. Many thanks. Kate, Barlby by the Sea, Wakefield Council."