The Headless Lady and more - Original Fairground Sideshows
Astounding large scale original Sideshows to make your crowds gasp in astonishment
For availability, fees and suggestions for your event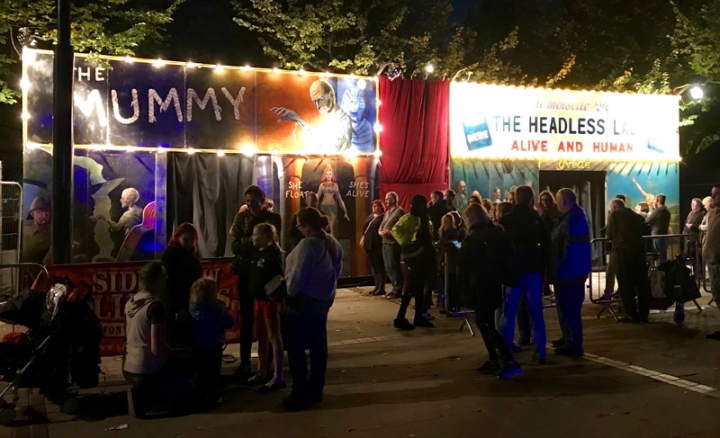 These wonderful shows only tour to selected venues - could it be your event?
Description
Sideshow Illusions, a wonderful world of the odd, the sensational, and the bizarre all with a touch of fun and sexiness, bringing Fairground Sideshows back to life.
Step right this way for the most incredible, the most stupendous and the extraordinary! Be amazed by Gloria, the Living Half-Lady! Witness Yvette, the Headless Lady, kept alive by the miracles of modern science! See Cleo the tiny, bikini-clad Girl in the Goldfish Bowl. Experience the terror, enjoy the creepy delight, be astonished in The Mummy Show as Princess Elmira transforms before your eyes into a hideous, two-thousand-year-old undead mummy monstrosity. And there are more inexplicable marvels in Sideshow Illusions' collection of the most thrilling shows you will ever see!
The shows have already thrilled thousands of visitors across the UK from Blackpool's Showzam Festival, Derby Feste, Hull's Freedom Festival, Sheffield Fayre to two appearances at Margate's Dippers and Dunker's Festival.
These are large, impressive, visually exciting shows with fronts painted in the 1950s. They have had an audience throughput of between 2,000 and 4,000 at a two-day show with multiple shows per day.
Each show requires a footprint of 6m wide and 12 m depth and a day to build up.
Suitable for...
Festivals
large outdoor events
"On Saturday in one single day an unprecedented 3,000 visitors flocked to the Headless Lady, Goldfish Woman... listening to the chattering reaction, every class, age and type has found something to wonder at in laughter and surprise"
Libby Purves, The Times