The Chefs - Comedy Stiltwalkers
Ten foot tall, quirky comedy chefs! Talk about High Cuisine these two are a great attraction at any event but especially food themed events
For availability, fees and suggestions for your event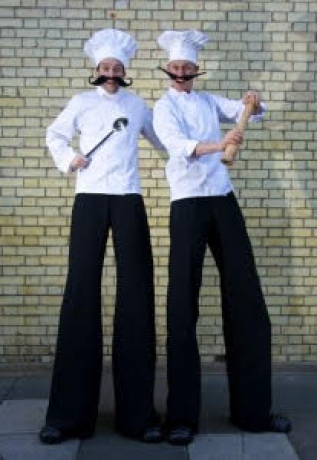 Highly popular - book early
Description
Meet the chefs! Just like boiled eggs, these two are hard to beat. Seasoned professionals Gordon Bleu and Al Dente are a super-sized culinary delight. Onlookers will relish the opportunity to meet these giants of gastronomy as they dish out their own unique style of humour. 
The Chefs create quirky characters that are entertaining and funny, as well as being an impressive sight – there's nothing quite like seeing two 10-foot-tall comedy Chefs on parade! They complement all this with well-practised banter and our portable themed music.
Suitable for...
Street Events
Festivals
Food events
"You really added fun to our Street Food market - I can't count the number of people wanting selfies with you. Thanks so much."
Jamie