Dangerous Steve - Thrilling outdoor entertainment - rain or shine!
Comedy, Fire and chainsaw juggling, Giant Unicycle and Ladder Balancing in an hilarious act full of sensational stunts, it's a real crowd pleaser!
For availability, fees and suggestions for your event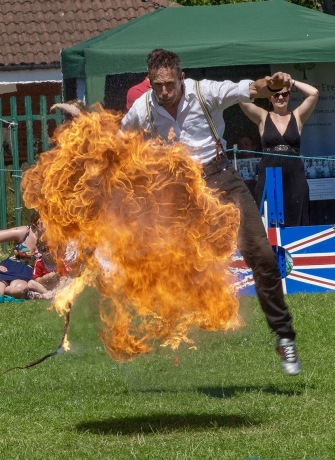 Dates flying out for 2022 and 2023
Description
Thrilling Outdoor and Street Theatre Entertainment! Non-Stop, thrill-a-minute with Dangerous Steve's full arena attraction featuring, Fire and Chainsaw Juggling, Ladder Balancing, Quad Bike Stunts, Motorbike Tricks and Steve's Unique One-wheeler-motor-bike with his amazing upside-down roll - the only person to perform this daring stunt.
Dangerous Steve is a great dynamic act for Galas, Fun Days and Festivals with thrilling stunts and interactive comedy. It's a real crowd pleaser!
Dangerous Steve is often rebooked and has performed at leading Galas and Festivals from Guernsey's Battle of the Flowers to Orkney West Show including Whitby Regatta, Santa Pod Raceway, Tramlines Festival, Okehampton Show, Driffield Show and many town and village shows throughout the UK and abroad.
It's a great act for Galas, Fun days and festivals with brilliantly funny audience participation, knockabout comedy, crazy balancing and a thrilling fire-juggling finale.
Dangerous Steve's act is self-contained, he can bring his own arena and sound system, suitable for small and medium size shows.
Steve has been involved in outdoor attractions and shows for over 30 years (he started when he was six - billed as "The World's Youngest Motorcycle Stunt rider"!) Steve's act has been seen throughout the UK from Blackpool (Heat the Streets), to Basildon, from Cornwall to Cumbria taking in gala's, festivals and corporate events including the Guernsey's Battle of the Flowers, VW Festival, Sheffield's Fright Night (with an attendance of 40,000!), Tramlines Festival, Whitby Regatta and Covent Garden's British Transport Museum.

Street Theatre version available with fire, sensational stunts and loads of comedy.
Suitable for...
Festivals
Country Fairs
Outdoor Shows
Galas
Fun days
Agricultural Shows
Steam Fairs
"You were absolutely amazing, funny, entertaining and the best act we have ever had!"
Woodham Gala