The Great Inferno
Swallowing and Blowing Fire in an amazing act
For availability, fees and suggestions for your event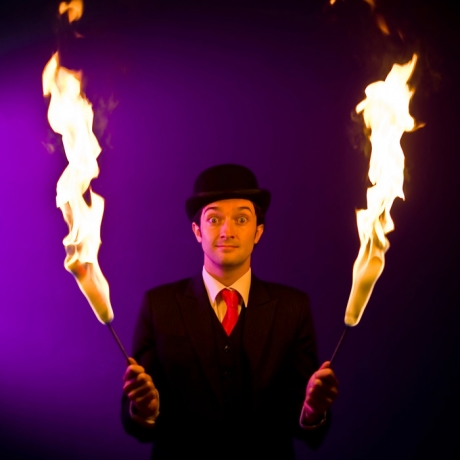 Want to warm up your crowds - book The Great Inferno!
Description
Imagine the allure and excitement of flames being eaten, breathed and manipulated. Fire is always a crowd drawing spectacle, the danger, movement, colour and excitement of the flames is appealing to all audiences.
The Great Inferno is a spectacular fire performer with over 15 years' performing experience. It's a great attraction to warm up any audience. Inferno has appeared in front of Queen Elizabeth II and the Duke of Edinburgh, Arabian Sheikhs in the United Arab Emirates, on TV and radio and for many other audiences around the world, from small private residences to full-sized theatres.
He was featured in Ripley's Believe It or Not Annual. The Great Inferno has fire presentations suitable for outdoor (and indoor performances if conditions allow this), from spectacular fire breathing sessions to a full stage act. He has developed amazing fire stunts too including eating molten lead and his incredible human blow torch routine.
From a ten minute spectacular stage act to a thirty-five minute street theatre performance The Great Inferno is versatile.
Suitable for...
Festivals
Sideshows
Cabaret
Burlesque
Circus theme
Street Theatre
Sideshows
Corporate Shows