Magic Carpet Theatre - superb children's and family theatre
Great shows for your young audiences. If your audiences like funny stories, magic, juggling, comedy and joining in they'll love Magic Carpet Theatre.
For availability, fees and suggestions for your event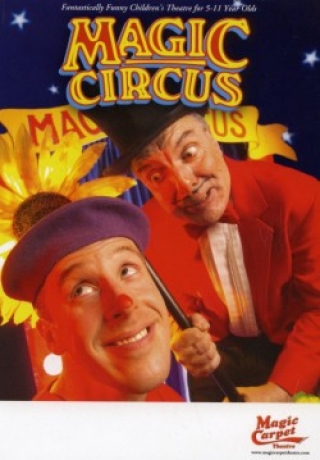 In high demand for outdoor summer shows and inside seasonal performances
Description
Welcome to the wonderful world of Magic Carpet Theatre
The Magic Circus
This show can play anywhere, outdoors, on grass or hardstanding, in town centres, parks and play areas,  at indoor venues from fully equipped arts venues to schools and community halls. 
1 hour minimum set up and 35 minutes take down, approx 6m x 6m space required.
It's a disaster! All the circus acts have disappeared, the acrobats, the tight-rope walker, the lion trainer, the Great Albertina and the elephants have all gone!  Where have they gone?  Why have they left?  Will the show carry on?  Who will perform?  The grumpy, pompous Ringmaster is left with one clown and the boys and girls from the audience and they make a fantastically messy job of it! Magic Carpet have taken traditional Circus and Variety skills, dusted them down and invested them with new life and moulded them into an hilarious and mystifying play with a Circus theme. The Magic Circus is fast moving, colourful, highly visual with audience participation, magical illusions, circus skills, appealing puppets and loads of comedy from the Magic Carpet team. And yes, spoiler alert, the Ringmaster does lose his grumpiness!

Book Circus Avago a brilliant Circus skills workshop to complement the show
Other shows on offer include Mr Shell's Seaside Spells set in Victorian times , and Mr Albert's Big Finish a fast paced, colourful music hall romp with magic, juggling and fun, all available in a 35 to 50 minute outdoor show version.
They are completely self-contained and carry their own sound and lighting where needed. 
Magic Carpet Theatre was founded by Jon Marshall in 1982 and has been touring all over the world ever since, from Genoa to Glasgow, Gateshead to Grimsby, Margate to Maryport via Singapore, Ireland and most of Italy
We are a company of professional performers and crew, working with talented writers, designers, prop builders and graphic artists on our children's theatre productions. We are specially interested in the traditional skills of Variety Theatre, Circus and Puppets including clown, slapstick and physical theatre.
Children and families love it, an interactive theatre experience - it's great fun!
Suitable for...
Schools
voluntary groups
community events
Festivals
outside events
Theatres and Arts venues
town centre and street shows
""I would just like to thank you for today! Not only did the children enjoy the show, the adults did too! We all thought it was fanstastic!! Children showed so much excitement after the show and shared lots of thoughts of what they liked the best. Now time to get some super work from them! Hopefully we will have some work over the key stage which we can send to you! Sorry I was unable to say bye - yard duty! Thanks again! I would recommend you to others" Holy Trinity Junior School, Ripon"