Order of Anarchy
Exciting, all girl fire act, sensational and guaranteed to wow your guests
For availability, fees and suggestions for your event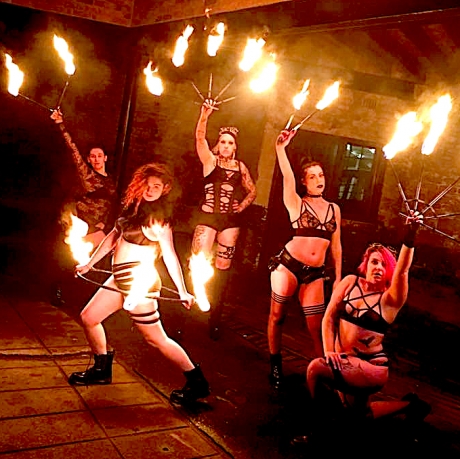 Call now for a free quote and availability
Description
A sensational all girl fire act, guaranteed to give your guests and audience the wow factor. They are literally the hottest act in town. High octane and highly skilled performances from an eye catching ambient fire performer for meet and greet or a chic and daring solo performer to an exciting fire duo or a full four performer thrilling act, whatever your fire needs, Order of Anarchy will create the perfect performance for  your event. 
They have a huge repertoire of fire tricks and fireobatics including, fire poi with twirling patterns and wheels of fire in the air, it looks stunning, fire crowns, fire staffs, and the manipulation of fire fans, fire hoops and the production of showers of sparks from pyrotechnic grinding. Fire breathing and the sensational dragon's breath - breathing huge flames into the air that will take your guests breath away! 
You'll feel the heat!
Order of Anarchy will put the pizazz into your event devising the best performance that will meet your budget, venue and audience requirements. Inject  a touch of fire burlesque into your event and it will be the talking point of the night.
Suitable for...
Fire shows
after dinner shows
festivals
parties
weddings
cabaret
outdoor shows
corporate events
burlesque shows