Penny Arcadia - Old Tyme Street Barrel Organ
Victorian and Edwardian events, perfect for fetes and street theatre fun.
For availability, fees and suggestions for your event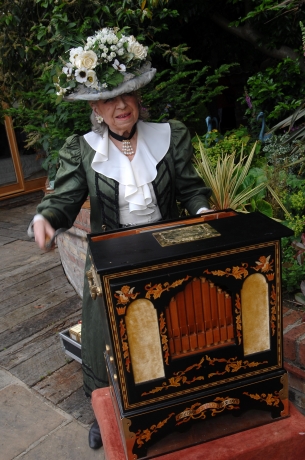 Ask for this show as part of a package with our other street theatre acts
Description
Penny Arcadia's Victorian Barrel Organ and (puppet) Monkey
Toe tapping jolly tunes from this exquisite vintage hand-turned barrel organ. It's unusual and original. Passersby are instantly taken back to a bygone era. Adults smile, children dance when it's played with personality by Mr Percy or Miss Penny Arcadia  in period costume, the second generation of the original Penny (Original Penny pictured).
For weddings, corporate and other period themed events it's great for meet and greet and welcome situations. 
Carries own 3mx3m gazebo in case of inclement weather. Up to 4 x 30min spots per day. 
Suitable for...
Outdoor Shows
Galas
fetes
Fun days
PeriodEvents
Victorian
Edwardian
Fairground Theme
"Thank you, it set the atmosphere perfectly for our Fairground themed 100 year's celebration."
Neil & Brown