Whacky Will -Stiltwalker
Stiltwalker, Juggler and Magician
For availability, fees and suggestions for your event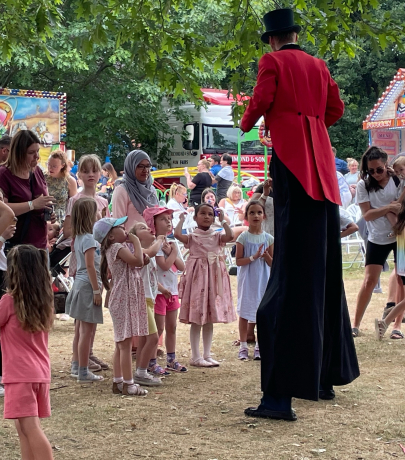 Book early to avoid disappointment
Description
Whacky Will stands head and shoulders above the visitors at outdoor events, he really does, creating a highly visual attraction that everyone will want selfies with.
His stilt walking characters include, Greatest Showman, Circus, Clown, Pirate. For Christmas events his giant Elf character really adds to the atmosphere.
Eyes will pop when you see him ride his giant bicycle on stilts! It's ideal for parades.
For events when guests need to be welcomed, directed or leaflets and flyers distributed a stilt walker is great.
Will is a talented juggler and expert balloon twister and these skills can be combined with his stilt walking.
It's no wonderWill has multi skilled entertainment skills his Dad is a Punch and Judy Professor as was his Grandad.
Will is guaranteed to put smiles on to spectators' faces with his interactive stilt walking with personality.
Suitable for...
Festivals
walkabout
meet and greet
Street Entertainment
Galas
Corporate and outdoor events