Wonder Wheelers Workshop
A Full-Day of Fun on Wheels!
For availability, fees and suggestions for your event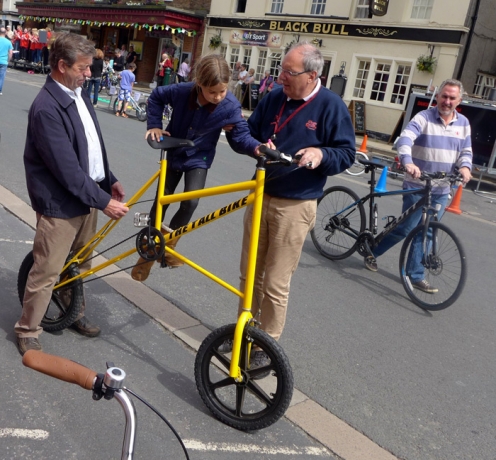 Already booked again for Tour de Yorkshire 2019
Description
Weird and Whacky bicycles, unicycles, Penny Fathings, bendy bikes, tall bikes, mini-bikes and mini-tandems, eccentric wheelers, circus bikes, balance trikes, fun wheels, pedal goes and more. Try our unrideable bicycle challenge - steer one-way and it goes the other!
Huge fun for all ages, participants and spectators!
We bring arena and cycle track, fencing and cones, a mini marquee, bunting and banners min 20m x 20m required. It's great for any transport or bike themed event. Wonder Wheelers were a great attraction at Yorkshire's tour de France Le Grand Depart and the Tour de Yorkshire races as an exciting and fun activity.
Up to a 5 hour session per day
20m x 20m minimum space required
Special Package - Double the Fun!
Wonder Wheelers and Circus Avago together
Ask for details.
Suitable for...
Festivals
Country Fairs
Outdoor Shows
Galas
Fun days
Agricultural Shows
Steam Fairs
Fetes
Bicycle Races and Bike related events